So, turns out getting a tooth ripped from your gum is pretty painful. Who knew?
Definitely no need for two mazzy needles either. AND I haven't been able to eat alllll day. *shakes fist*
As its a wisdom tooth that's been untimely removed from ze mouth it remains to be seen how much my intellect levels will be affected...
Right now I feel like my brain has gone on holiday. I've just had to work out 7 x 4 ON A CALCULATOR. This could be due to the wooziness from a combination of painkillers, not eating and Boy Drama.
FYI boys of the world, you are all insane. Each and every one of you.
The sooner I become a lesbian, the better.
So yeah I had my tooth out today and to cheer me up mummy bought me some new shoes that I lobe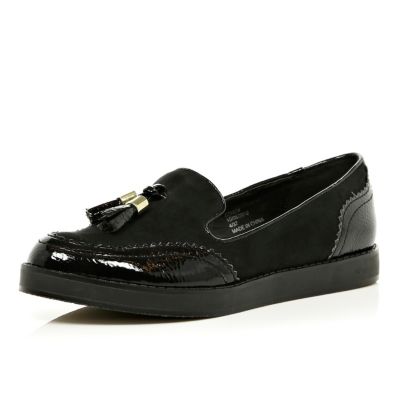 Shoes - River Island
Flatform + Creeper + Tassle
Very comfy. Look great with skinny jeans, cigarette pants and tea dresses (already tried them all, babez)
Nice one, Mum.
Also, I know I'm a bit late on The Band Wagon but Rhianna is collaborating with River Island for a new collection and Lana Del Rey with H&M. Both previews look boss so they better not be a million pounds as I am about to tighten the proverbial belt loops on the upcoming move to London.
(did I mention I'm moving to London? T minus 4 days!... OH EM GEEE)
Imagine if only we could wear Rhianna style outfits all the time...
I imagine wearing just paint would get a bit nippy though.
However, if I had these trainers I would definitely wear them with EVERY outfit;
For a minute there, I lost myself
x